Long Beach Domestic Violence Attorney
Accused of Family Violence? Call (562) 888-9148 for Defense Now!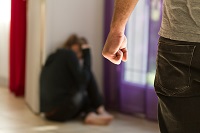 If you have been arrested for domestic violence, we know how to help you. Our defense team brings 40+ years of collective experience in criminal defense to the table. Don't hesitate to contact us today to learn how we may be able to protect your rights and clear your name!
Discover how our Long Beach domestic violence lawyers can assert your legal rights next when you call us for your free case review.
Take Immediate Action After a Domestic Violence Arrest
By nature, incidents of domestic violence are emotionally charged. Because defendants and alleged victims typically live together, police almost always make an arrest when responding to a complaint in order to ensure everyone's safety. This does not, however, mean that the police arrest the right person.
As with any violent crime accusation, is possible your arrest was the result of a misunderstanding. Police may be acting on information from a third-party complaint, and the victim may have no intention of pressing charges. What may have started as an argument or a misunderstanding can easily turn into a serious legal situation. You need to know your legal options now before matters progress further!
Penalties For Domestic Violence
We know that facing allegations of domestic violence can be an extremely difficult experience. You are likely facing legal action that can make life frustrating and confusing. The consequences of a conviction related to domestic violence can vary in severity depending if you were charged with a misdemeanor or felony:
Misdemeanor domestic violence - If you are charged with misdemeanor domestic violence than you could be facing up to one year in jail and/or fines up to $2,000.
Felony domestic violence - If you are charged with felony domestic violence than you could be facing up to 4 years in jail and fines up to $10,000.
You deserve high-quality defense of your every right. At Peacock & Le Beau, we have successfully handled 1,000+ defense cases in Southern California.
Handling Domestic Violence Restraining Orders
A restraining order is one of the most immediate legal actions that can be taken in a case of domestic violence. If you are facing a restraining order currently, it is vital that you abide by the order and avoid violating it at all costs.
Regardless of whether or not you think the order is fair, restraining order violations carry heavy consequences. If you are seeking to reconcile with the individual or respond to the provisions of the order, take legal action with our Long Beach criminal lawyer at your side.
Restraining orders can legally do any of the following:
Prohibit you from contacting the other person
Prohibit you from going near the other person
Order you to move out of a shared home
Order you to pay specific bills and payments
Order you to release/return specific property
Award temporary custody and support to the other parent
Remember, individuals who violate the terms of a restraining order may be held in contempt of court. This often results in an arrest, additional fines, and jail time on top of the punishments they may face from a domestic violence charge.
How to Fight a Domestic Violence Restraining Order
When you first receive a restraining order, know that it is effective immediately. Read the order carefully and DO NOT disobey the order. If you disobey the order, you can make the problem worse. You can even be fined and arrested. Following the instructions on the restraining order does not mean you agree with it.
Rest assured that you will have the chance to respond to a restraining order, and most orders only last until the hearing. You can find the hearing date on the Notice of Court Hearing on the restraining order.
Follow the terms of your restraining order until the hearing and consult an experienced domestic violence attorney for legal help. If you have guns or firearms, turn them into the police, sell them, or set up storage.
Before your hearing, be sure to file a response to the restraining order. Your lawyer can help you "serve" the other party a copy of your response.
Please note that you still need to go to the hearing – even if you file a response. The hearing is the only chance you have to fight the restraining order and tell your side of the story. If you fail to appear, the order could last for up to 5 years.
Your lawyer can help you write your response, file it in court, and prepare for and present your hearing. This is especially important if you have a criminal case related to the alleged abuse, stalking, or violence in the restraining order because anything you say or write in your restraining order case can be used against you in your criminal case.
Although you do not need a lawyer to respond to a domestic violence restraining order, the Judicial Council of California recommends you hire a lawyer to best protect your rights.
With the Law Office of Peacock & Le Beau, you can start fighting your domestic violence restraining order today.
Schedule Your Free Consultation with Us Immediately—Call (562) 888-9148
If you are dealing with domestic violence charges, our legal team offers the strong defense you need to challenge these accusations and protect your rights in court. Not only do we have decades of criminal defense experience to our name, but we have been recognized time and again for our expertise.
In fact, both of our domestic violence defense lawyers have been nominated to the California Super Lawyers® list. When you need expert domestic violence defense in Long Beach, L.A. County, or anywhere else in Southern California, you can depend on the Law Office of Peacock & Le Beau.
Don't delay—Your future is on the line! Contact our dedicated firm today to start your defense.
Recent Case Results
A Firm with a Proven Track Record
Assault & Battery Dismissed

Domestic Violence Acquittal

Driving with Suspended License Dismissed

Drug Possession for Sales Reduced

Drug Possession for Sales Dismissed

DUI Reduced

DUI Reduced

DUI Drugs Reduced

Felony Domestic Violence with Great Bodily Injury Not Guilty

Grand Theft Reduced